A once-in-a-generation transition to the cloud. Forget everything you know about telephony and step into the world of advanced communication across platforms.
Efficiency and productivity

Reduce the costs to provide telephony.

See the presence of                co-workers through UCaaS.

Chat through unified messaging.

Create ad-hoc collaboration spaces to share documents instantly.

Remove the need to buy large scale systems and hold onto these for years to come.

Improve the ability for staff to collaborate from almost anywhere.
Have a single number reach across multiple devices or locations.

Service will be identical at all locations.



simplified delivery and management online.
PConnect's provisioning and support portal, SASBOSS™ enables provisioning and support of Unified Communication solutions – whether it be a simple Unified Communications user or an end-to-end solution including unified messaging.




The result is seamless Unified Communications and PBX management.

 
Web Reception Application
The Reception console provides a company overview of the status of each user. If you need to transfer a call simply click the user required and transfer! There is no need to remember individual extensions anymore or use a handset to complete a large number of transfers.

 
Office 365 AD Integration
PConnect recognised that many businesses today rely on their MS Office 365 Active Directories, and when adopting Unified Communications, they will need a seamless integration of the two platforms.
Our provisioning portal is making this easy; the integration creates an authorisation link and trusted relationship between MS Office 365 Active Directory and Unified Communications. With this challenge addressed, end customers can quickly and easily scale services as they need. 
The PConnect UC-One Communicator
Brings together powerful Unified Communications services and is provided with soft clients for PC, Mac, and Apple's IOS and Android devices including smartphones and tablets.
Instant messaging and group chat.
Multi-party
voice and video conferencing.
Desktop sharing in real time.
A full range of handsets is available from basic through to executive and conference phones. Handsets provided by PConnect come with zero touch provisioning through our contact portal, thereby reducing the cost to deploy new solutions as engineers aren't needed on site to configure phones.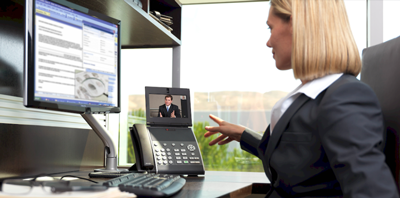 Multiple benefits for all departments
How to make their communication seamless and integrate all their tools, make their operations streamlined and lower costs at the same time?
IT Department
+ Fully automated provisioning for services and handsets.
+ Office 365 AD integration removes the need to manage users in multiple places.
+ Fully redundant cloud infrastructure with SLA's ensures the reliability of phones over a stand-alone on-premise solution.
+ Open standards-based solutions and API integration allow further automation.
+ Full functionality collaboration reduces the number of systems required to be managed.
Human Resources
+ Simplified user experience with messaging, voice, video, file and content sharing in one application reduces the training requirement.
+ Cloud Phone System provides telephony anywhere an internet connection is available allowing freedom to work remotely.
Finance Department
+ Reduction in costs through the removal of dedicated telephony service line rental.
+ Reduce risk through 'zero terms' contracts allowing the business to scale up and down as needed.
+ A higher value for more reliable office phone systems with the redundancy built into the solution, not an additional cost.
+ Lower cost of phone calls and bundled call packs reduce bill shock.
Call Center Manager
+ Call Centre (Contact Centre) and voice solution provided by one organisation removing the integration points and finger-pointing.
+ Removes the need to build specific infrastructure and limitation around many lines running into the building.
+ Unified Communications allows agents to be anywhere an internet connection is available.
+ Highly available infrastructure in the cloud for higher reliability.
Executive
+ Improved functionality of business telephone systems at a lower cost to drive business returns.
+ Ability to provide for flexible working contributing to Employee Value Proposition.
+ PConnect's partners provide more exceptional customer experience and responsiveness than the big Telcos.
+ 'Zero term' contracts provide the ultimate assurance of service quality.

One to One
PConnect Unified Communications as a Service.

One to Many
PConnect UCaaS through collaboration gives the ability to reach a wider audience.

Many to Many
Ability to add and remove people on UC-One Communicator.

Many to One
CCaaS Call Centre provides advanced queuing and calls distribution for use in voice applications.

Contact Centres
PConnect's CC-One provides analytics-based Omni Channel contact centre for customers.